Optimize your experience
with
Sound Balms®

.
1.

Choosing your Sound Balm®
A Sound Balm® is neither singing nor relaxing music, but a medium of frequencies that activate your inner transformation. Also, make sure beforehand that you are ready to change and have clearly defined your needs. Then visit our online shop and choose the Sound Balm® according to the area of the body or issue you wish to harmonize or treat.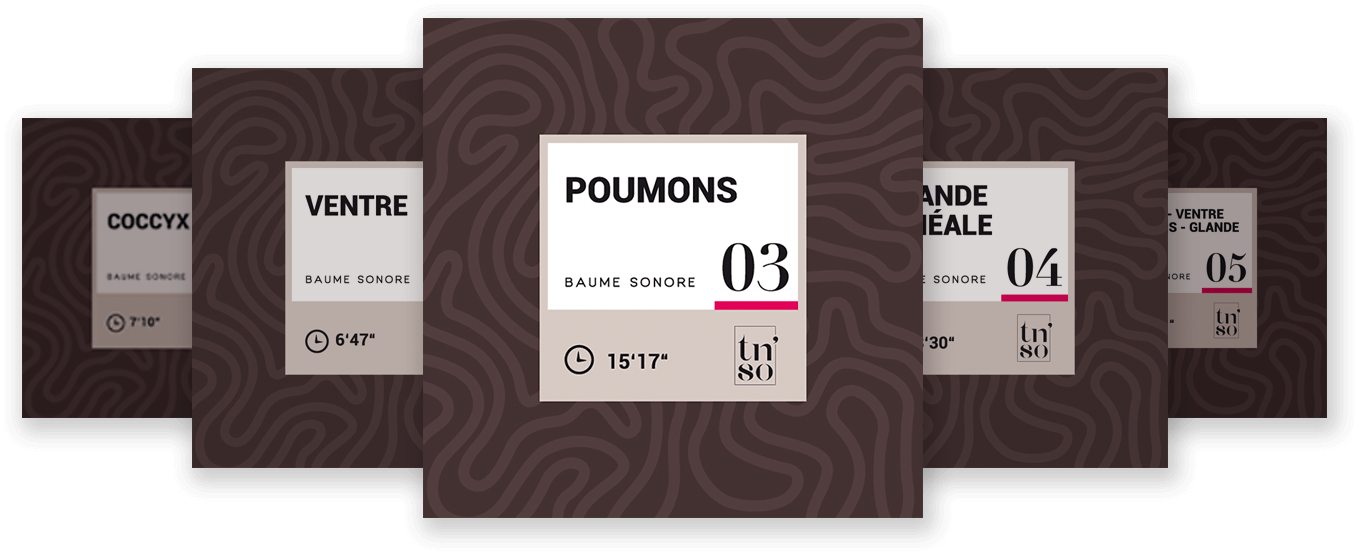 2.

Selecting your subscription
Subscription: 1 week / 1 Sound Balm® of your choice
Perfect for discovering Sound Balms® or for an express treatment, this subscription effectively meets your needs at a specific time.
Subscription: 1 month / all Sound Balms included®
It is recommended to listen to the same balm for 7 days, following the suggested harmonization program. Ideal for a global harmonization, this subscription promotes the integration of energy cleansing.
Subscription: 1 year / all Sound Balms included®
Like the one-month subscription, it is advisable to use only one balm at a time, for 7 days. Essential for ensuring the long-term support of your transformation, this subscription allows you to deal with all of your life circumstances.
All subscriptions are non-binding.
3.

Preparing for your experience
Soyez pleinement dans l'expérience. Travailler avec un Baume sonore® n'est pas anodin, que vous en ressentiez les effets ou non. Ainsi, évitez de l'écouter en accomplissant une autre tâche et consacrez-vous pleinement à l'expérience. Tout effort de concentration est inutile : soyez simplement présent(e), fermez vos yeux et laissez-vous traverser. Isolez-vous pour éviter toute interférence.
Munissez-vous d'un casque ou d'écouteurs de qualité. Privilégier votre écoute intérieure facilite la mise en place des processus d'harmonisation. Les fréquences sonores entrant en résonnance avec votre structure osseuse, mais aussi votre peau et vos corps subtils, votre expérience n'en sera que plus profonde.
Choisissez une position confortable qui favorise la détente : allongé(e) sur votre lit, assis(e) dans un fauteuil, enveloppé(e) d'un plaid douillet… selon vos préférences.
Adaptez le volume sonore selon votre sensibilité. Le niveau du volume sonore affectant votre expérience, plus le volume est important, plus l'expérience est puissante. En cas de problèmes physiques ou psychiques (maladie, dépression), il est préférable de commencer avec un volume sonore faible ou moyen, puis d'augmenter progressivement. Si vous êtes simplement fatigué(e) et que vous désirez progresser rapidement, adaptez le volume à votre confort d'écoute.
Respectez le rythme des écoutes. Ecoutez le Baume sonore® une fois par jour minimum, le soir avant de vous endormir ou le matin à jeun, jusqu'à ce qu'un changement soit observé. Le baume peut être écouté une ou plusieurs fois de suite, voire en boucle, selon votre ressenti. Restez à l'écoute de votre corps et faites-vous confiance.
Soyez régulier(e) dans votre pratique. Ritualiser votre expérience vous apportera de plus grands bénéfices.
Accueillez vos ressentis. Des impressions de mal-être, de nervosité et de peur sont souvent le signe de résistances inconscientes et le préliminaire à toute libération (lire l'article du blog). Si elles apparaissent, accueillez-les et persévérez dans vos écoutes, en observant de ce qui se joue en vous et autour de vous : la qualité de vos nuits et de vos rêves ; votre état général, physique et émotionnel ; vos relations professionnelles et sentimentales ; les événements et synchronicités qui surgissent dans votre vie…
4.

Practicing conscious listening
To deepen your experience, write down your impressions after every session (Day 1, 2, 3…) following the chart below:
the number of sessions (one or more times, depending on your feelings);
the areas of the body that responded;
your impressions (cold/hot, heavy/light, emotions…), any images or visions;
the quality of your sleep (deep/restless, dreams, nocturnal awakenings…);
your general condition the next day (tired, stiff, fit…).
Each session is different, this protocol allows you to track your progress and promotes awareness. Finally, keep in mind that it is not because you don't feel anything that nothing is happening. You have found Sound Balms® for a reason: trust yourself!
Listen conscientiously.
Master the experience.
The balm helped me to free myself from my fears and anxieties. I have the impression that I have gained confidence, serenity and detachment.

After a week of listening, my sleep has improved, with fewer nocturnal awakenings. I also noticed more fluidity in my creative process.

After a week of listening, quite suddenly, I decided – or rather "it" decided within me – that I have the right to live for myself. A true liberation.

This Balm acts as a catalyst, bringing new uninhibited light at every waking moment while developing a new harmony.

After a week of listening, I felt a clear vibratory elevation with, as an immediate effect, more magnetism and a multiplication of encounters and synchronicities.
Welcome to the world of
Sound Balms®
RECOMMENDATIONS
TNSO offers support that aims to achieve well-being, relaxation, stress relief and tension release, through the use of Sound Balms®, individual or group sessions and any other harmonization tool involving the use of voice. However, under no circumstances whatsoever do the Sound Balms®, available on the TNSO site, intend to replace or substitute any treatment through psychology, psychotherapy or allopathic medicine consultation. Listening to Sound Balms® cannot replace the advice, diagnosis and services of a medical practitioner.