In March 2020, the TNSO range welcomed the first custom-made Sound Balm®: Earth's Voice. 17 vibrant minutes during which the earth's voice rises from the depths of the matrix, offering each individual the possibility to harmonize with their inner song. Originally created to accompany guided meditations in Tampa Bay, Florida, Earth's Voice is now available in the United States, on the website of the "Viral Energy Institute" founded by Penelope Jean Hayes.
American speaker and author, Penelope Jean Hayes is one of those inspiring, committed and connected women, eager to make a significant contribution to the awakening of consciousness in the world. Behind the image of a "working woman" with an impeccably tanned complexion and curly hair, her love for Mother Earth is genuine and that is what makes Penelope so touching. We both share a love of life and Mother Earth, as well as the hope of seeing humanity rise to a higher consciousness of itself. The
Earth's Voice
project, imagined together, is an extraordinary creation that is pure magic, in total coherence with the philosophy of the TNSO brand and the Sound Balms
®
. Working on this wonderful project was a real challenge for me as a creative composer and to my surprise, even earned me a mention in Penelope's latest book,
"Do Unto Earth"
. In this work, she communicates with a spiritual being named PAX through a channeling process. Adapted extracts.
"Penelope: I met a very talented singer, a French vocal artist,
Erin Kann,
who creates beautiful musical pieces and vocal tracks that act as medicine to repair body organs and diseases through sound vibrations with healing properties. She calls them "Sound Balms". We collaborated on a customized Sound Balm entitled
"Earth's Voice"
as a support for a guided meditation - Global Viral Contemplation - to heal Mother Earth and help people all over the world access the wisdom of their Higher Self. Erin worked with a bioenergeticist and an astrophysicist to verify her methods of sound vibration healing and awakening. Do you consider this project valuable - sound vibration healing - in directing energy for Mother Earth?
PAX: Of course. The ancients knew about sound energy and its uses in healing (as in warfare sometimes: certain frequencies can drive people nearly insane if used for extended periods of time and can even shatter glass). Certain frequencies heal and enhance meditation - the vibration of OM and sound for example. Sound therapy and in your current situation, music therapy, which is a derivative, works wonders in some applications. It is yet another tool to use in the healing process. As you may know playing musical notes and vibrations increases plant growth, crop yields, soothes people and animals, and brings peace wherever they are heard."
"The ancients knew about sound energy and its uses in healing."
The
"Viral Energy Institute"
platform currently offers various online classes, meditations and tools, intended for people on a path of transformation and opening of consciousness.
Earth's Voice
is presented there as a comprehensive online course, which includes:
a short biography,
a presentation of Earth's Voice and its effects on the being,
listening tips to optimize the experience,
user testimonials,
Earth's Voice in video format.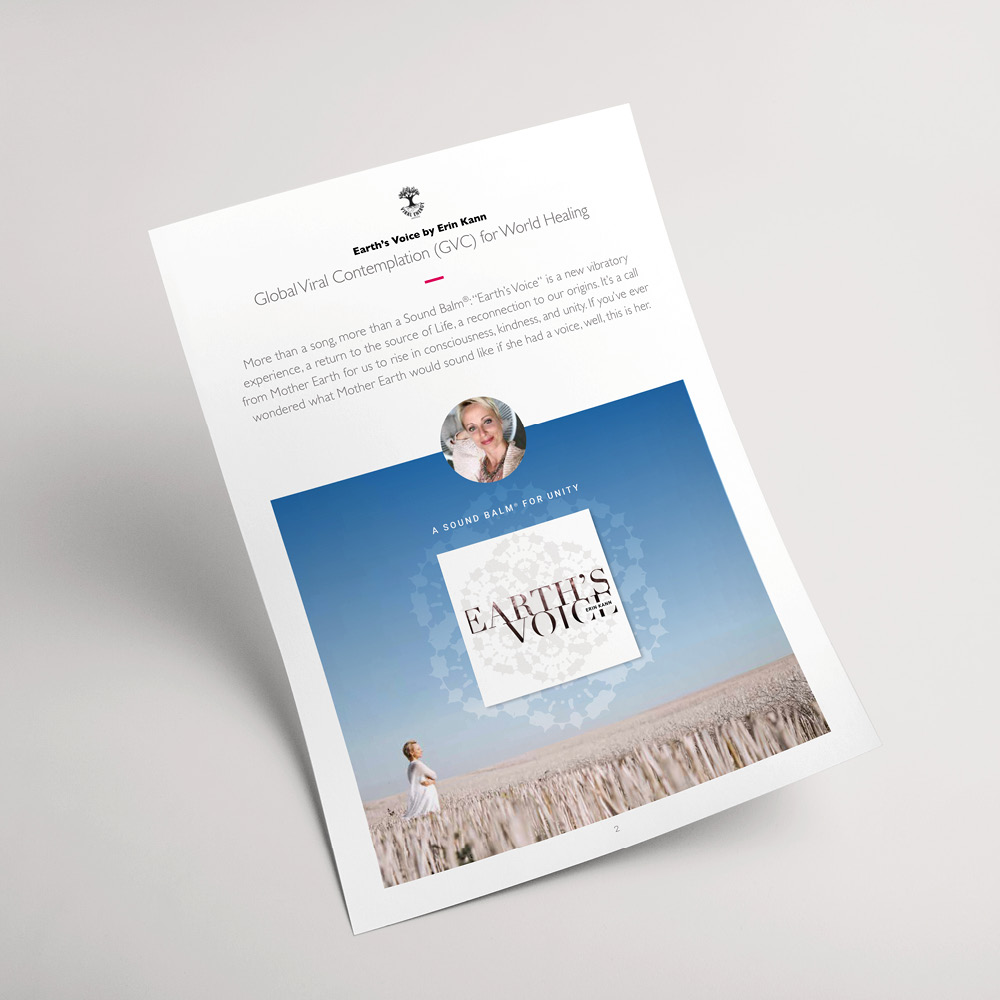 In regards to
Earth's Voice
, Penelope shares:
"What I really like about this meditation is that it is different from any other meditation and that it works on me, even when I am just sitting and doing nothing. As I meditate and raise my own consciousness, this Sound Balm works on my body and mind like medicine. It's a dual therapy in that that way. Truly unique. I listen to it often and find my balance with this vibration that brings me back to my inner harmony."
"Even my pets enjoy it and sleep in peace while listening. Wonderful for the whole family!"
CONTEMPLATING THE MAGIC AT WORK
How surprising life is… and always just, despite appearances :) And how wise it is to leave time to time, with the deep faith that things always work out at the perfect moment.
Earth's Voice
is a fine example of this creative intelligence, constantly at work, in us and around us. A magic that is real but only visible to those who take the time to observe it… and to marvel at it. After the cancellation of the meditations planned last March – due to the pandemic -
Earth's Voice
took a side road to reach the ears of the world and find its audience. As a mother sees her child grow up in complete freedom, I am happy and proud to see this balm gradually find its way beyond our borders. In this period of profound upheaval, harmony becomes a
viral
necessity. Isn't sound the universal language, beyond time, space and language, which harmonizes us with the Whole?
---
Find out more
Earth's Voice is a sound balm that instantly reconnects the being to the frequency of the Earth and strengthens its grounding, essential to its balance. This "return to the earth" promotes a state of deep inner peace, develops a sense of security and wholeness and, as a result, clarifies thought. Its function is unifying, soothing and rejuvenating.
You too can experience
Earth's Voice.